Eco-Friendly – Green Cleaning
EcoFriendly Cleaner
Definition of Being a "Green Cleaner"
Green cleaning is the process of choosing cleaning products that are better for both people and the planet. Switching to green cleaning in Kalispell Montana, the products are good for your family's health and well being of your people, and it also prevents unnecessary chemicals from being released into the environment.
But have you considered that those out there using those environmentally safer products to clean your home are not actually being Eco-Friendly. Read on to see what I mean.
EcoFriendly VS Reusable – Cleaning
Boy that is an Oxymoron isn't it? Or is it? Lets start off with the reality of it. One that we can't get away from the fact that virtually everything we do has a negative impact on our environment, even if you run off into the woods to live in a yurt and eat nothing but honey. (Think of the bees!) Every single product we buy, "through its production, use, and disposal… has an environmental impact," says the American Chemistry Council. The materials that companies use to make products, the energy it takes, plus any air pollution, water pollution, and solid waste that comes out of it are all impact factors. Many "green" cleaning products claim to have less impact in some of these areas compared with conventional products. But in other areas, they may have more impact. Because of this, the environmental difference between "green" and conventional formulas is kind of a wash.
We all want to do our best part for the environment. But is buying and using "green" products really eco-friendly? The answer is a resounding … maybe. It depends. There's not a lot of data on it, really. To complicate the issue more more, products that that might damage the environment less in one area may damage it more in others.
However, we can sure try to do the right thing, right? SO lets dive into this issue and see how we can work on this solution together.
To begin – lets talk about those throw away one time convenience wipes and other disposable items some people see as easy and less impactful. huh?
Disposable Cleaning vs Eco Friendly Cleaning
Montana clients are very Eco Conscious and rightfully so but did you know:
Green cleaning refers to using cleaning methods and products with environmentally friendly ingredients and procedures which are designed to preserve human health and environmental quality.
Many people claim that they are green cleaning and are using the products that claim to be environmentally safe. And they truly are thinking about it but are they using methods or procedures that truly environmentally friendly?  Are they charging you more to do so?  The products do cost more, do take more time to make and use, so yes they should be charging more. But are you getting what you are paying for?
The real kicker, are they truly being EcoFriendly? Or are they using paper towels? or disposable wipes? or any throw away items? Do they use those little dusters that are meant to be thrown away when done? What if I told you they were not being EcoFriendly even though they were going through the motions of using the Cleaning Products but still were contributing to the big picture problem?
"According to The National Ocean Service, plastic is the most common type of marine debris found in American lakes and oceans. The potential negative effects of microplastic on marine life is one reason why plastic microbeads in cosmetics and personal care products were banned in the United States in 2015, according to CNN, but the breakdown of plastic in items like wipes is another major cause of microplastic debris. According to The Telegraph, microplastic is regularly ingested by marine organisms — including fish and seafood that may ultimately end up being consumed by humans. In fact, a 2015 study from the University of California, Davis, found that about one-quarter of the fish sampled from fish markets in California and Indonesia contained man-made debris like plastic or fibrous material."
If we are to be truly ecofriendly we need to consider what methods we are applying to implement our Go Green technology by not using the throw away/disposable items but instead replace those items with reusable items. Seems pretty intuitive doesn't it? It's not as much as you would think.
As a service industry we are constantly being asked to do things, faster, better and cheaper so many will often go for the throw away cleaning items that seem to get it done faster. The small portions sent in those cleaning product containers (another throw away plastic item) mean the sticker price is smaller and thus seems cheaper. The convenience of having it right there, right now seems to be faster. And then there is the "better" option. I can not stress enough how much I disagree that those items are in any way better or even as good as a good product and a rag.
In our industry we are asked if we use ecofriendly products. Often times we are told that the products we are using are not as ecofriendly as what they have on hand. And this is probably VERY TRUE! And here is the down fall to that statement.
Why we can say WE are an Eco-Friendly Cleaning Team
Our cleaning products are concentrates and are mixed into our reusable containers. Meaning – They are then premixed and off of our shelves.We do the research and make sure that the products we use are safe, effective and time sensitive to your needs. A complete win-win?
Not yet, you say? Read on.

If what we have in our bucket does not work for you – we are thrilled to use what you have on hand. Meaning we can't carry enough of the varied product for each individual space but we can and will use what you have or want to be used. Hey that was pretty simple.

Now since we use concentrates that we fill each week into recycled containers it means that we create (no waste).  Our methods mean we do not leave any trash to be put in the bin. 99.99% of the waste we throw out is not our own but that of the client? No paper towels, no single use items, no wipes so NO TRASH.  We use rags/mops/dusters/etc. that we wash after every job in natural laundry soaps.

We are Montanans so if we use the carry in carry out method of every product we use. SO there is 0 wasted product to throw out. And most times we reuse it in some way or another. Our footprint on the environment is next to nothing.
The Pitfalls of Being EcoFriendly
Numerous Cleaning products – As we are talking with our clients the products they want us to use is as immense as our clientele. Every person wants a different product used in their space.  If we were to carry EVERY product someone wanted us to use our vehicles would have to be the size of the cleaning isles at Home Depot. So what we do is offer to use what you have and we will leave it there.
Sate and Federal Laws – State and Federal Laws require us to carry MSDS Chemical Response sheets on us at all times. If your cleaner is not doing that they are in violation of those laws and YOU as the property owner could be liable for any accidents.Think about that the next time you request her to use that home made version of any cleaner.
Cost – Every client wants to save money, everytime. Carrying multiple more expensive products means we have to charge more and most clients are looking to spend more to do the same job. We completely agree with them but when our products cost more that get's passed on to the client.
Time – Time cost money. Though their ingredients may be more environmentally friendly, green cleaners come with some trade-offs: They're more expensive and may require more elbow grease to achieve the same level of visual cleanliness. And then we are spending more time in mixing the individual product for each individual client we have to charge more and again the clients are not looking to spend the extra for us to research, mix and create the MSDS labels required for each product.
You say there are premixes? Yes and they cost even more.
Essential oils? Yes and again MSDS Sheets. There's those federal laws again.
Chemicals – You are concerned about the use of chemicals in your home? First off we love the Vinegar/water in a spray bottle. Throw in a little baking soda and off we go.However, the products we use other that that are the normal cleaning solutions that have been used for many years. But as the community has become chemical conscious so have the manufactures. They want you to buy their products so they have developed their cleaning products to match what we as the consumer wants. Take Lysol for example. Did you know that Lysol is made with only three simple ingredients? Lysol kills 99.9% of germs and bacteria* with only 3 simple ingredients; water, salt, and hypochlorous.Hypochlorous is a gentle, non-toxic, weak acid, but a powerful sanitizer that forms when salt water is electrolyzed. Once dry, it reverts back to salt, leaving behind no other residues!We use the safest, most cost effective and time saving solutions we can find. and that includes what it leaves behind in your home.Now The solution – Yes I have a solution.  We are EcoConsious too and do care about the environment as well as your space being cleaned as chemical free as possible but want to and have to ensure that your time and costs are being respected.

We are Green Conscious to your space, and the environment. To be truly "green" Vinegar and water or Citris oils in water are the real solutions and yes we can use those or any product you chose.

But in lieu of going back to that Yurt mentality we talked about at the beginning, please know that we strive to be conscious of you our clients, needs/desires but also make sure that we are delivering on the best, most cost effective solution to solve those problems for you.

However we can do that with you as the partner in creating that perfect space for you and your family is our mission. Call us and let's discuss what your plan looks like, the solutions are there we just have to find them.

Executive Cleaning by Design – we design your ideal program.
Services
406.260.5761
executivecleaningbydesign@gmail.com

In the meantime here are a few tips for you to not become part of the landfill problem.

F

lathead Valley here are Five Affordable, Effective Alternatives to Disposable Cleaning Products
From single-use cleaning wipes to detachable toilet wands, disposable cleaning products are often more expensive and less effective than the reusable products they replace.
Disposable cleaning products like disinfecting wipes and toilet wands are popular and convenient, but one price for that convenience is waste: Those single-use cleaning wipes and Swiffer dusters and stainless steel polishing wipes have to go somewhere after they've been single-used, and that somewhere is the trash. Even if you reuse it several times it is still going into the trash bin, unnecessarily.
 These products are convenient but also contain microplastics that are not biodegradable. They're not safe for our sewer systems, and their use can contribute to the rise of superbugs.
Disposable cleaning products are, perhaps, right for you, your household or your budget. But maybe you're bothered by the waste. You may feel that throwaway products don't clean as well as a sturdier alternative might. Or maybe you suspect you're overpaying for cleaning supplies and would rather reduce that budget and put the money into your avocado toast habit.
We strive to use our reusable products before the alternative convenience of the trow away/disposable products. But whatever your reason, here are some alternatives, with pros and cons for all, to those popular single-use cleaning products.
Ditch disposable disinfecting wipes for quality cleaner
Premoistened disinfecting wipes are 1. more expensive per use than a roll of paper towels and a bottle of all-purpose cleaner; 2. oversaturated with cleaning fluid; 3. packaged so they don't ever seem to thread correctly through their dispenser; 4. wildly popular.
But if you were to simply go back to the old fashioned rag and cleanser you have created a win-win-win. You are not throwing out a paper towel or wipe, you have just saved a butt load of money and you are using what you are comfortable having in your home. Vinegar and water or citris oils mixed in water are the best all around solution.
A good vacuum is a better investment than disposable sweepers
Swiffer Sweepers are, perhaps, the most polarizing item in the disposable cleaning product world. People really, really love their Swiffers! But the replacement pads are expensive and wasteful. You must touch the dirty pad, post-use, to remove it from its base and deposit it in the trash. They don't clean as well as a vacuum.
If the Swiffer meets your needs, by all means hang onto it. But also consider the fact that lightweight, cordless vacuums — which don't take up a lot of storage space and which are just as easy to use as pushing a Swiffer around — can be had for under $100 (Wirecutter's budget stick vacuum pick, the Dirt Devil Reach Max Multi Cordless Stick, costs exactly $100). If you're a person who uses a Swiffer with both wet and dry pads, consider an all-in-one vacuum and mop like the Bissell Symphony, which retails for under $200.
We have switched from using the swiffer to a washable microfiber mop that has the duster on one side and the mop on the other. Throw in a spray cleanser of your choice and you have the ease of the swiffer and the ecofriendly solution of never throwing that nasty disposable mop pad out or the cost of replacing it. See where I am going with this?
Stainless steel cleaning wipes are entirely unnecessary
You know what cleans streaks and fingerprints and splatters off stainless steel in a jiffy? A plain old microfiber cloth. Simply buff away blemishes using the cloth and a bit of elbow grease, and for very stubborn marks try putting a few drops of cooking oil onto that cloth and rubbing it into the stainless, working with the "grain" of the steel.
Here  is where microfiber, excuse the pun, really shines over its single-use counterparts. A canister of 30 disposable stainless steel cleaning wipes costs $7.99; a package of three microfiber cloths — which can be used wet or dry for loads of jobs beyond just polishing stainless steel, and can be machine washed and used over and over again — costs about $4.
I have found that if you purchase your cloths from a restaurant supply chain you can get a package of 30 for less than $4.
Drop disposable dusters for washable dusting cloths
Treated dusting cloths perform the same function as their disposable counterparts: Compare the product description for Clorox Dust Wipes, "The interlocking weave traps and locks onto dust, hair and allergens so debris is getting picked up instead of pushed around," with that of Guardsman Dusting Cloths, "Specially treated, residue-free cloths trap and lock-in dust, unlike paper towels or other rags that just push around dust or even leave fibers behind." The difference between them, however, becomes stark when you compare the cost of disposable dusters with that of a reusable dusting cloth: A pack of disposable dusting cloths costs $10.99, compared with $6.49 for a set of reusable ones.
Some disposable dusters, such as those exceedingly popular Swiffer Dusters, do work quite well, perhaps better than their reusable counterpart, a feather duster made of ostrich feathers, which will capture dust until it is shaken out. But each Swiffer Duster session will run you a little over a dollar just in replacement costs and will rob you of the joy of cosplaying as Yvette from "Clue."
Our favorite is
$
2
98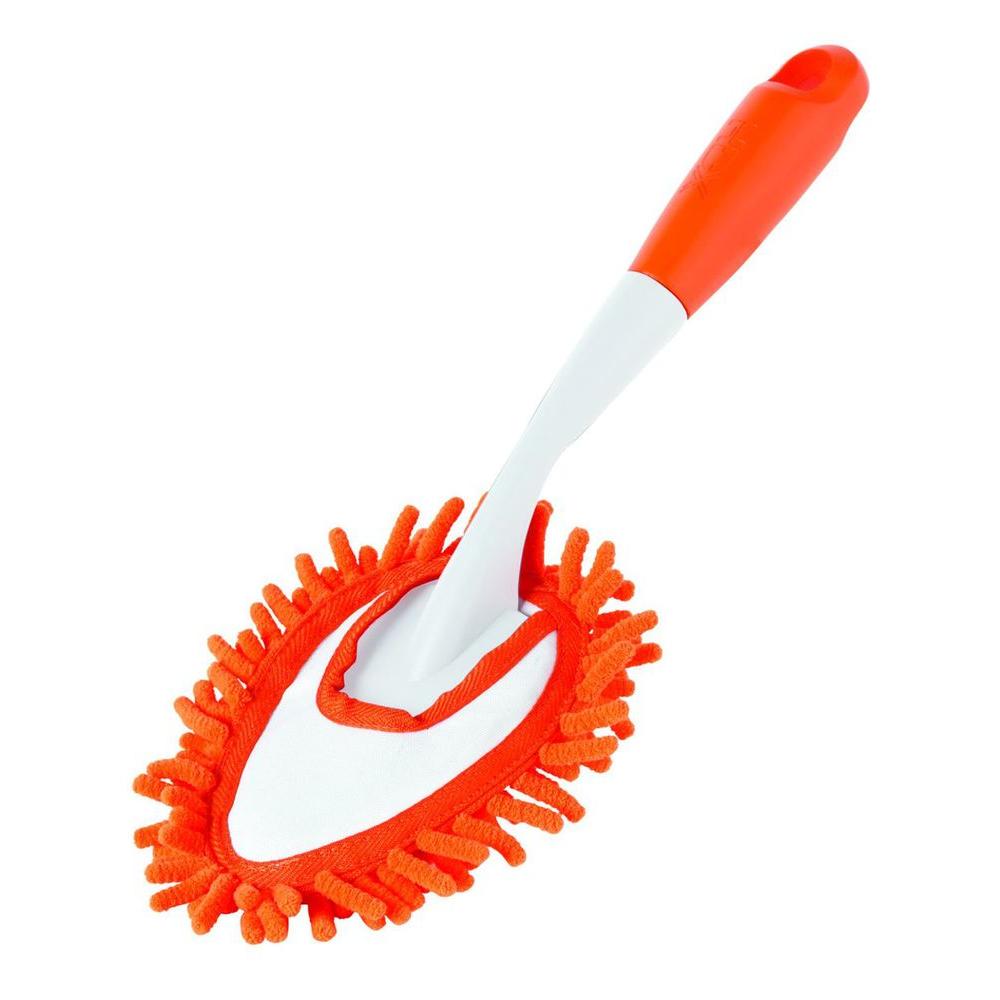 When it comes to toilet wands, go old school
Toilet wands, which consist of a plastic handle with a gripper mechanism to which a disposable cleaning pad is attached, take the place of a toilet brush and a multiuse bathroom cleaner. But the old way of using a toilet brush and a multiuse bathroom cleaner takes no more time and cleans no less effectively. The wand also won't replace that multiuse bathroom cleaner since it's not designed for use on the toilet seat, tank or flusher. And the wands are expensive: Toilet wand starter kits cost $7 to $15, but a quality toilet brush is $12 to $20 and doesn't require the purchase of pricey replacement pads, which cost a whopping 50 cents per use.
Then there is the matter of the design of the disposable product, which tricks users into thinking the disposable pad is safe to flush. It is not.
In Summary
We are Green Conscious to your space, and the environment. To be truly "green" Vinegar and water or Citris oils in water are the real solutions and yes we can use those or any product you chose.
But in lieu of going back to that Yurt mentality we talked about at the beginning, please know that we strive to be conscious of you our clients, needs/desires but also make sure that we are delivering on the best, most cost effective solution to solve those problems for you.
However we can do that with you as the partner in creating that perfect space for you and your family is our mission. Call us and let's discuss what your plan looks like, the solutions are there we just have to find them.
Executive Cleaning by Design – we design your ideal program.
Services
406.260.5761
executivecleaningbydesign@gmail.com
Organic Cleaning Products
Call Now